Wow, 10,705 of you have read this.
WeAreTheCity was invited by the TLA Women in Tech Education group to a screening of 20th Century Fox's 'Hidden Figures', and came away inspired by the movie's themes, performances and the awareness it raises for women in science, technology, engineering and maths (STEM). 
The screening featured a real-life space suit, an EDF stand with VR for guests to experience, and a panelist discussion after the movie, hosted by radio and TV presenter Jenni Falconer. The panel, which included writer Helen Keen and space scientist Maggie Aderin-Pocock, provided fascinating insights into the world of STEM and the prejudices each of the women have faced.
Adapted from Margot Lee Shetterley's book, 'Hidden Figures: The American Dream and the Untold Story of the Black Women Mathematicians Who Helped Win The Space Race', stars Taraji P. Henson, Octavia Spencer and Janelle Monáe as astrophysicist Katherine G. Johnson, Dorothy Vaughan and Mary Jackson's respectively.
Not only is 'Hidden Figures' an important story of feminism and the fight for civil rights, but it also details one of most accomplished missions for NASA in spaceflight history, John Glenn going into orbit. An achievement that couldn't have been reached without the dedication, intelligence and drive of the three black scientists.
Although NASA's Langley Research Center did hire women and African-Americans, bathrooms, offices and other areas were kept segregated. 'Hidden Figures' outlines the hardships that black women at NASA faced in the years prior to the Civil Rights Act. Not just characters written for the screen, these women were real, and the impact they've had has been lasting and powerful.
Katherine G. Johnson was honored by President Obama with the Presidential Medal of Freedom in 2015; but the fact that her contribution, as well as Vaughan's and Jackson's was not widely celebrated until now is a huge mark of erasure. 'Hidden Figures' tells their story.
WeAreTheCity spoke to space scientist Dr Maggie Aderin-Pocock, who publicly speaks to raise awareness for women in STEM. She shares her thoughts on 'Hidden Figures', and why it's so important for everyone to see the movie.
'Hidden Figures' will encourage women to dream
'Hidden Figures' is currently one of the front-runners to win the Academy Award for Best Picture. Aderin-Pocock said: "'Hidden Figures' is absolutely amazing and I can't wait for my daughter to see it. These women were pioneers and fought against tough obstacles, but didn't stop until they succeeded.
"That's really a message to all of us females. If we bash those obstacles down and work together, we can reach goals that we never even dreamed we could reach. We could touch the stars."
The women in 'Hidden Figures' opened doors for Maggie
The three female leads paved the way for women like Maggie to work in STEM industries: "I saw so much of myself in the engineer character (Janelle Monáe), because I'm very hands on and love solving problems. But when I look at the strife they had, the barriers they overcame, I feel so fortunate to not have experienced anything like that."
She applauds their courageous behaviour: "They are the trendsetters that made my life so much easier. The fact that these women have been hidden figures is terrible. We need to be shouting their names from the rooftop."
'The Clangers' inspired Maggie to become a space scientist
Maggie references the childhood classic as her inspiration into becoming a space scientist: "I got really interested in space when I was three years old. I used to watch 'The Clangers', and it made me want to be an astronaut. I think most sophisticated people grow out of such crazy dreams, but it really is still mine to get out there into space."
She goes onto explain how much she managed to overcome: "I suffer from dyslexia, so I was put in all the remedial classes.
I'm black, female and from a broken home, so expectations were never high for me. I was lucky enough to have amazing support and pursue my dreams."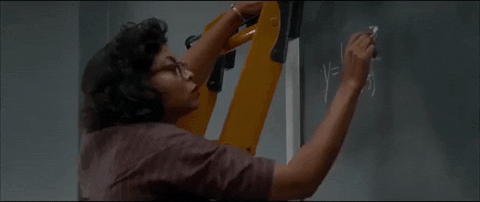 Girls need to be made aware from a young age that STEM subjects include them too
Females in engineering currently stands at just 19%: "It's horribly swung, and the same statistics show for computing too. Girls are really good at engineering and physics, so we need to now be showing them the opportunities that are available to them. I think when girls see the film, they'll see that there's something magical about solving problems and making a difference."
Maggie explains that STEM benefits the economy: "There's a scientist in everyone just waiting to get out. If you look at the economy, it's STEM that fuels it. STEM has gotten us out of recessions and is the driving force behind so much of the UK economy. There's simply not enough female practitioners."
People double-take when Maggie reveals she's a space scientist
She recalls times when her profession has come as a surprise: "I was working on a new project, and I was introduced to a room full of white men as their project manager and every single one looked up at me in shock. It does take time to know what anyone's capable of, and initially, because I didn't look like any of them, they put their barriers up. When I showed them that I'm just as competent, just as passionate, and just as determined to get the job done as effectively as possible, the barriers melted away."
Experiences like that, and others, have prompted Maggie to stand up and make a change: "We're all human and we all judge each other on looks, and I do get the double-take, so I'm trying to train more female scientists to go out there and be known by the media, so that when they introduce themselves, everyone says 'big deal!'. And that's why 'Hidden Figures' is so important.
These women need to be promoted as role models so that the younger generation will see female scientists as a natural thing and we won't get the double-take!"
'Women need to raise their heads and make a difference'
Maggie sees problems with diversity at the top of the chain: "There's a leaky pipeline. There are not enough girls, ethnic minorities or LGBT representatives applying for STEM jobs. As you go further into the higher echelons of these companies, you have fewer representations of diversity. It's bad for the companies."
She believes there are many different ways to get yourself heard. "Ladies, raise your head and make a difference. You're going to be remembered because you're a minority, so make sure you're remembered afterwards for a different reason. Have confidence in yourself and be heard."
HIDDEN FIGURES opens in cinema's nationwide Friday 17th February.